Home Learning from October 2020
Day One
Phonics - /gg/
1) Start by revising the graphemes known so far using a flashcard game at: https://www.phonicsbloom.com/uk/game/flash-cards?p…
2) Introduce the /gg/ grapheme by explaining that when /g/ and /g/ are together they are code for one sound. This is called a digraph (where two letters are code for one sound). The children should be familiar with this.
3) Decode and read the /gg/ words. Discuss the meaning of the harder words to check for understanding.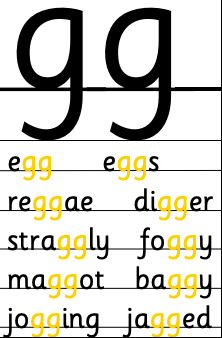 4) Apply - Can you add your favourite words into a sentence? Focus on 'sounding out', using finger spaces and trying to get letters 'superglued' to the line. Add pictures to show off your learning :)
Numeracy - Sorting Objects
Have a look at the following video to help your child recap over how we can sort different objects: https://whiterosemaths.com/homelearning/year-1/wee...
Sorting Investigation Worksheet

Geography - Continents and Map Skills

Continents Input Where do I live? Continents Cut and Stick
Reading - Comprehension

Read the story with your child and try and answer the following questions about the text. You can find the answers on the last page.
Welcome to the Year One home learning area!

Here you can find a range of activities that you can do with your children during school closures.

Don't forget to check out the Useful Websites page for more resources, games, activities and more!

Not sure where to start on your home learning journey? Click the link below which outlines some key areas of Year One learning. These are some of the core essentials that would have been expected for a Year One child to achieve at the end of the academic year. We appreciate that everyone is on their own unique learning journey and that these expectations will need to be adapted for some children.
Reading

This document contains 6 different Phonics activity mats for your child to practise their blending and segmenting skills.
Here are lots of great questions you can ask your child when they are reading in order to continue developing their comprehension skills.
Phonics
Here are some essential phonics pages that you might find useful. These include sound mats, high frequency words and our phonics assessment document which you can use to track your child's at home progress.
First 100 WordsNext 200 WordsPhase 2 SoundsPhase 3 SoundsPhase 4 SoundsPhase 5 SoundsPhonics Assessment

Handwriting
This document contains a variety of different pages that can be used to help your child practise their handwriting skills.
Handwriting PractiseLetter Formation
Spelling
Here is a copy of the Spelling Shed Scheme for Year 1.
Literacy
The following document is a Spring Literacy Activity booklet that your child can work through.
Spring Activity Booklet (Literacy)
Maths
In Year One, children need to be able to write numbers to 100 without reversal and write numbers as words to 20. Here are two mats which might help you:

100 SquareNumbers as WordsNumber Formation
Our next topic in maths was due to be length and measure. Although this is a short unit, it's a very practical one which would suit a home learning environment. Click the link for guidance and activity ideas.
Here is a Spring Maths Activity booklet for your child to work through.

Spring Activity Booklet (Maths)

Below you can find a home learning pack for Year 1 Maths provided by Primary Stars. There is wide range of mathematical concepts in this.
Year 1 Home Learning Maths Pack
Science
Here is a home support guide for Sound and Hearing. This is a short unit of learning but can be explored through lots of practical activities.
Practical Ideas
The following document contains a range of other practical ideas you can do with your child.
Home Learning WB: 20.04.20
Maths Home LearningLiteracy Home LearningExtra Maths Challenges
Home Learning WB: 27.04.20
Maths Home LearningLiteracy Home LearningExtra Maths ChallengesTopic Challenge 1Science Challenge 1
Home Learning WB: 04.05.20

Maths Home LearningLiteracy Home LearningExtra Maths ChallengesTopic Challenge 2Science Challenge 2Extra WWF Activity
Home Learning WB: 11.05.20
Maths Home LearningTopic Challenge 3Science Challenge 3Snail Reading ComprehensionLiteracy Home Learning
Home Learning WB: 18.05.20
Literacy Home Learning Days of the Week Spelling Rules for SpeechScience Challenge 4Topic Challenge 4 Maths Home Learning
Home Learning WB: 25.05.20
Literacy Home LearningScience Home LearningMaths Home LearningThe Cautious Caterpillar Book - PDF VersionTopic Challenge 5
Home Learning WB: 15.06.20
Superhero Writing PaperSuperhero - All Sorts BookLiteracy Home LearningHero ImagesVillain ImagesWord Matsoe workbook
o_e workbook

Science Lesson One Maths Home LearningTopic Lesson One
Home Learning WB: 22.06.20
t_l_9650_my_lockdown_memories_2020_memory_jar_writing_template_copy.pdfScience Lesson OneAdjectivesAdverbsClassifying Words


Below is a summer Maths and English for any extra home learning.