Uniform
Our school uniform consists of a royal blue sweatshirt worn over a white polo shirt and black trousers/skirt or pinafore. Blue cardigans and/or fleeces are an optional alternative.
In summer many of the girls wear a blue and white gingham dress with a blue cardigan.
The children should wear wherever possible black, flat school shoes which are considered ideal footwear for running around the playground at playtimes! Trainers are NOT considered appropriate for school on a daily basis and should be kept for outside PE activities.

We do appreciate that there can, over the year, be occasions when laces get broken, shoes get damaged etc and it may be necessary to wear trainers- a short note into school or a phone call is appreciated.

Children should always wear a waterproof jacket/coat into school during the colder months.

All items embroided with the Onchan School logo can be purchased from Promenade T-Shirts.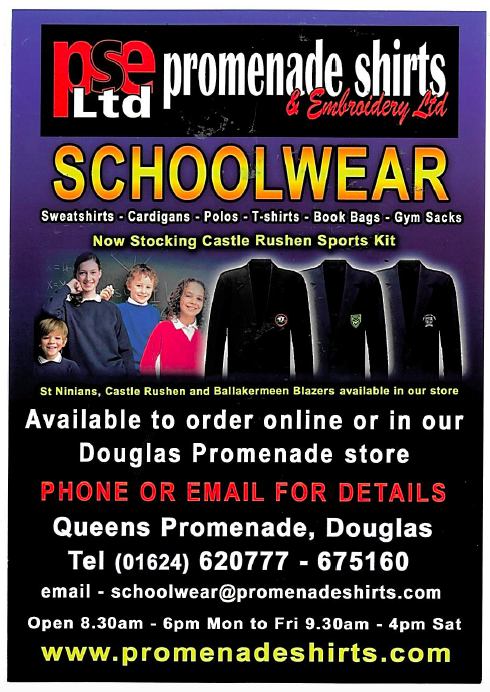 P.E & Swimming

We ask that all of our children bring into school an indoor PE kit and an outdoor PE kit. The Indoor PE kit consists of a white crew neck T shirt, navy shorts and black pumps. The outdoor PE kit should be a tracksuit, or joggers and a suitable top for outdoor wear with a pair of trainers.
If your child takes part in swimming with the school, all girls require a one-piece swimming costume, whilst boys must wear fitted swimming trunks rather than the bermuda short style. All children with longer hair MUST wear a swimming hat.

All items of clothing do need to be named, you will be surprised just how many sweatshirts are misplaced over a year along with coats, hats and gloves etc!